Acupuncture Works Rocky River, Ohio
About Me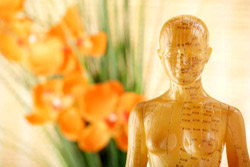 Christine Zupancic Lic.Ac. has been an NCCAOM board certified acupuncturist for 17 years. Additionally, she has her Master's Degree in Oriental Medicine from the Florida College of Integrative Medicine, and a dual Masters in Anthropology (M.A.) and in Health Planning and Administration (M.S.) from the University of Cincinnati.
She has traveled extensively throughout Central America, having worked on the Maya Mountains Archaeological Project in Belize, sponsored by National Geographic and has studied full immersion Spanish at the Proyetco Linguistico Francisco Marroquin, the oldest language school located in Antigua, Guatemala. Christine has also traveled through Honduras, Italy and Ireland.
Her healing philosophy is based upon Traditional Chinese, Japanese and Korean acupuncture techniques and excellent listening and communication skills. She treats one patient at a time. There are no multiple treatement rooms in her office as the patient in front of her receives undivided attention. This has contributed to developing a loyal clientele over the past 17 years. Thank you!
Feel free to call the office with any questions you may have regarding how acupuncture can help you!
Acupuncture Works, Inc. office phone # 216-459-7101.
"Travel is fatal to prejudice, bigotry and narrow-mindedness"
~Mark Twain