Acupuncture Works Rocky River, Ohio
About Me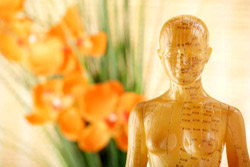 Christine Zupancic Lic.Ac. has been an NCCAOM board certified acupuncturist for 17 years. Her office is located in Rocky River, at 20525 Center Ridge Rd. Suite # 368 in the Westgate Tower Office Building, at the corners of Center Ridge Rd. and Linden. The building is on the South side of the road. Ample parking is available.
Her healing philosophy is based upon Traditional Chinese, Japanese and Korean acupuncture techniques and excellent listening and communication skills. She treats one patient at a time. There are no multiple treatement rooms in her office as the patient in front of Christine receives her undivided attention. This has contributed to developing a loyal clientele over the past 17 years. Thank you!
Feel free to call the office with any questions you may have regarding how acupuncture can help you!
Acupuncture Works, Inc. office phone # 216-459-7101.
Please leave a detailed message so that I can address your acupuncture questions completely.